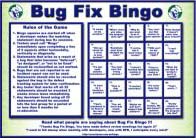 There is someone who is talented at marketing working for Gold Coast software testing firm K. J. Ross & Associates. They partnered with Software Engineering Australia to create the Certified Software Test Professional course, ensuring themselves some valuable mindshare and a guiding hand in the careers of future Australian software testers.
Another inspired, although not quite as influential, piece of work is Bug Fix Bingo. It's one of those "I wish I'd though of that" ideas which strikes a chord with every software tester. Visit the site and I guarantee you will want to print it out and pin it to your cubicle.
Bug Fix Bingo is a fun new testing game created by K. J. Ross & Associates. The game is based on the traditional bingo game yet with a software testing twist. Instead of using numbers, participants in Bug Fix Bingo use statements from developers in defect review meetings to mark off squares. Statements such as "It works on my machine" and "Its never done that before".
Incidentally, developers have a game like this too. They score points every time a QA person tries to raise a defect on functionality that is working as specified.
Update: Software Engineering Australia (SEA) folded in March 2005 after they found that they were not a viable organisation once their government grant ran out. Staff were absorbed by Object Consulting, who now offer CSTP training.