Frequently moving between companies means that I sometimes find myself jumping from using Toad one week to Microsoft Query (yuck!) the next.
Now that I have had the chance to use it on a couple of different projects, I think that FreeQueryBuilder is a pretty good replacement for most of the SQL tools that I have had to use; and it certainly saves the effort of learning a new interface every time I move projects.
The best part of it is that it is shipped as a jar file, so you don't have to install anything to use it – allowing you to bypass the week-long delay you are likely to experience at large companies waiting for the desktop support team to install software you need to do your job with.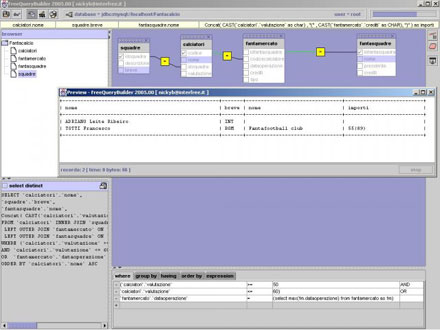 Off the top of my head, the other things that make it a neat tool are:
It works with all the popular databases
Shows relationships between tables
Makes it easy to search through the data dictionary for table or field names
Allows you to write queries by clicking buttons instead of typing, but gives you a text editor option too
Give it a go!
Update: The FreeQueryBuilder project has been discontinued. The software is now known as SQLeonado, and has some additional features.