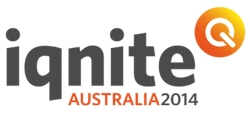 This year was the second time that I have spoken at the Iqnite Australia conference. This year, Iqnite Australia was was held from October 16-17 at the Melbourne Convention and Exhibition centre.
The conference was a great opportunity to hear from experts in the field of software testing and to meet with other practitioners. Over 200 software testing professionals and vendors came to the conference to discuss the latest industry trends.

While the conference presentations and round-table discussions were great, meeting lots of smart people and "talking shop" was definitely my conference highlight.
It was also nice that a lot of people came up to tell me that they enjoyed the presentation on Performance Testing in the Cloud, which Chris De Lorenzo and I put a lot of effort into. Even better was the people who made a point of telling the conference organisers the same thing. Hopefully I will be invited to speak again next year.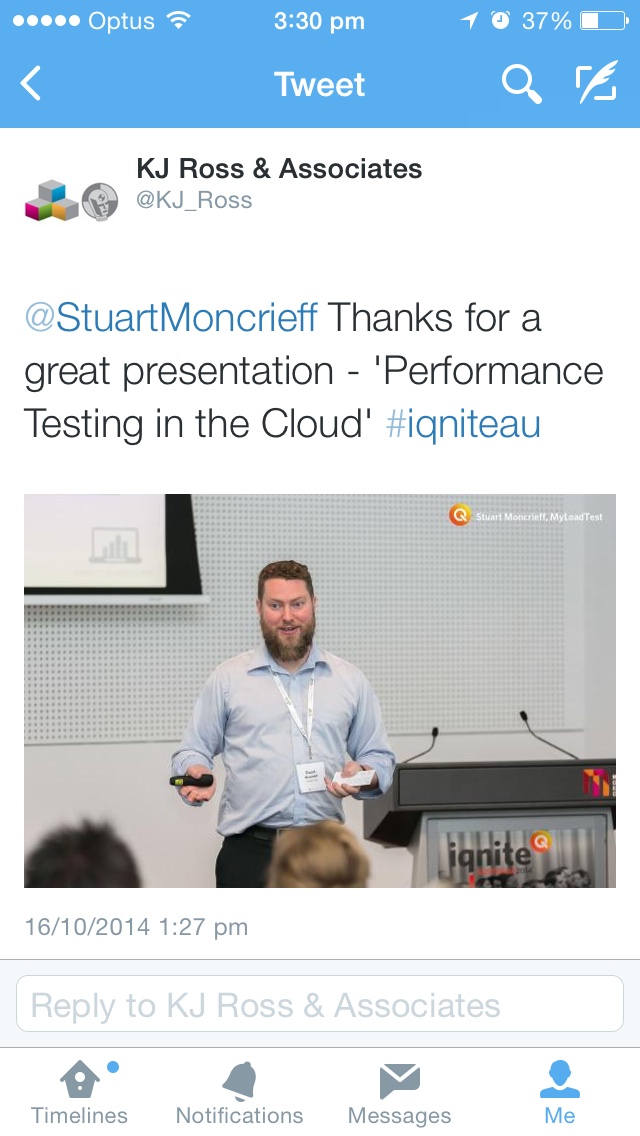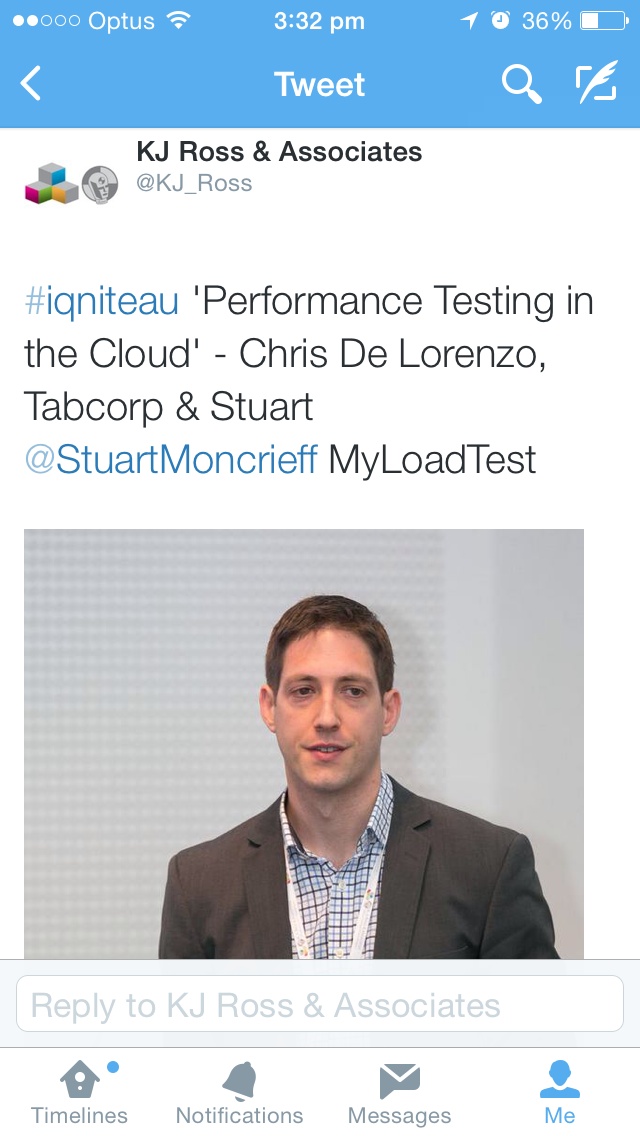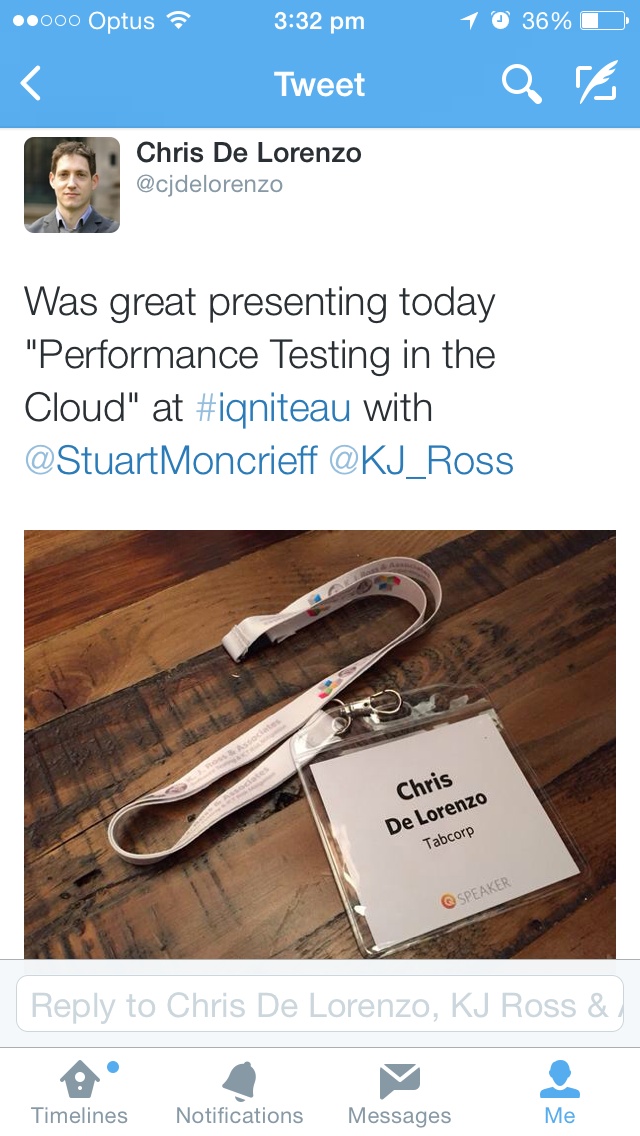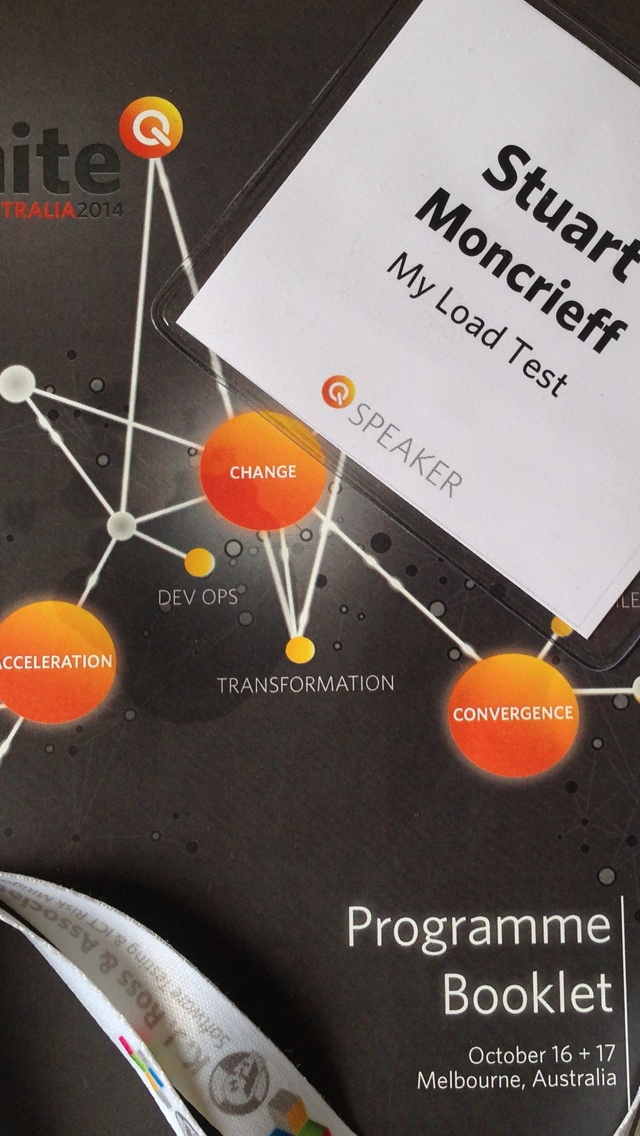 Overall, I thought that the conference was superbly organised, and even better than last year. I would highly recommend it for software testers in 2015 (when you are trying to decide how to spend your staff training budget).
Conference Programme
Just in case anyone is curious, here is the conference programme:
Day 1: Thursday 16th October 2014
Timeslot
Track 1
Track 2
Track 3
10.15 – 11.00
Change, Acceleration and Convergence – Software Quality in Transition
Thor Essman (Versent 1)
11.30 – 12.10
How Test Automation Transforms Testing
Mandy Slater (ComSuper)
Analytics and Quality in Production: Practical Perspectives
Steve Mactaggart (Open Training Institute)
Case Study on Digital Transformation Implementation- Testing Perspective
Dr. Hassan Mohamed Said El Desouki (Capgemini)
12.15 – 1.00
Panel Discussion: Tackling the Test Automation Maintenance Challenge
Performance Testing in the Cloud
Stuart Moncrieff (MyLoadTest) & Chris De Lorenzo (Tabcorp)
Lean Testing and Adventures at the Edges of Autonomation
Nick Jenkins (Hansei)
2.30 – 4.00
Critical Challenges Roundtable
Chair: Dr. Tafline Ramos
Utilities and Telecommunications Roundtable
Critical Challenges Roundtable
Chair: Peter Hanlon
Banking Finance, Superannuation and Insurance Roundtable
Critical Challenges Roundtable
Chair: Dr. Mark Pedersen
Digital Channels Roundtable
4.30 – 5.30
KEYNOTE: Rebellion of the Crash Test Dummies
Mark Toomey (Infonomics)
Day 2: Friday 17th October 2014
Timeslot
Track 1
Track 2
Track 3
9.00 – 10.00
KEYNOTE: 2013 ASTA Individual Contribution Award Winner
Caroline Carder (Bankwest)
10.00 – 10.30
Pecha Kucha
11.00 – 11.40
Methods for Implementing DevOps within the Enterprise
Michael Berry (Capgemini)
How ISO Improved Our Quality
Darren Ryan (Caterpillar)
Practical Experiences of Best-Practice Software Standards Implemention
Tim Archer (State Water Corporation)
What Is Happening To Me? Our Mobile Journey From Infancy to Maturity
Patel Arpit (Bankwest) & Subrata Bhattacharjee (Bankwest)
11.45 – 12.30
Panel Discussion: The Evolving Developer-Tester Relationship
The Journey after Queensland Health: DHPW's Journey Toward ICT Quality Governance
Cate Butchers, DHPW
Testing Mobile App Performance
Rob Manger, MYOB
2.00 – 2.40
Test Drive Velocity
Arpit Nag (Bankwest) & Chris Dart-Kelly (Bankwest)
State of the Industry
Chair: Dr. Kelvin Ross, K. J. Ross & Associates
Robot Forklifts for the Data Warehouse – Datamodel Based Testing
Mark Garnett (Planit Software Testing)
2.45 – 3.30
Static Code Analysis: The Agile Tester's Best Friend
Dr. Ralf Huuck (Red Lizard Software)
National and International Trends in Software Quality Practice
Presentation and analysis of the 2014 Ross Report with Interactive Panel Discussion
Achieving Effective Test Data Management to Ensure your Organisation is Data Privacy Compliant
Melanie-Jane Brock (SAP Australia) & Andrew Faid (Fonterra)
4.00 – 4.45
KEYNOTE: Embracing Change: from Disruption to Opportunity
Chris Adams, Spondo