A Java thread dump is a way of finding out what every thread in the JVM is doing at a particular point in time. This is especially useful if your Java application sometimes seems to hang when running under load, as an analysis of the dump will show where the threads are stuck.
You can generate a thread dump under Unix/Linux by running kill -QUIT <pid>, and under Windows by hitting Ctl + Break.
A great example of where this would be useful is the well-known Dining Philosophers deadlocking problem. Taking example code from Concurrency: State Models & Java Programs, we can cause a deadlock situation and then create a thread dump.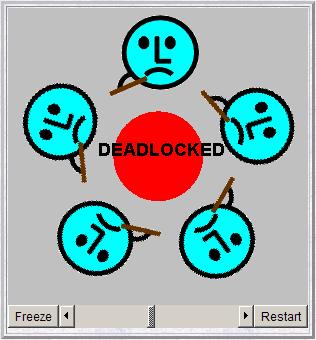 In the example below (shown using tda), we can see that the 5 Philosopher threads each have a lock on a Fork object and are each waiting to obtain a lock on a second Fork object before they can eat. Unfortunately this never happens and all the philosophers starve.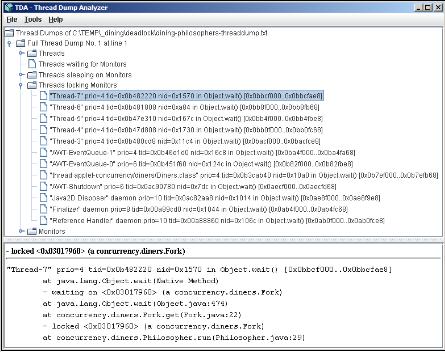 Download the thread dump from here (7 KB).
Note that not all hangs are going to be due to deadlocks, and there are many tools (including Eclipse) that will help you analyse thread dumps.