Since the release of Performance Center 11.0, the product has been based on the HP Application Lifecycle Management (HP ALM) platform (i.e. Quality Center). This architectural change means that functional testers and performance testers can share a combined testing platform – a single repository for requirements, test cases, and defects – giving full visibility across the functional, non-functional and performance testing areas.
It sounds great, but there are pros and cons to combining Performance Center and ALM/Quality Center…

Prior to version 11.0, Performance Center was completely separate from ALM/Quality Center. As companies upgraded from Performance Center 9.52 to version 11.0 or 11.5, they had to make an important decision: should they maintain separate instances, or combine them?
Some customers are still using Performance Center 9.52 and haven't had to make the decision yet. Choosing which deployment pattern to use will have a big impact on the users of these tools, and should be carefully thought through.
QC/ALM users and Performance Center users have different needs
Quality Center/ALM
Performance Center
Large number of users
e.g. 500 accounts, 250 concurrent users
Small number of users
e.g. 20 accounts, 10 concurrent users
Downtime is unacceptable. Functional testers use the tool 24×7 (onshore/offshore testers), and an outage will affect a large number of users. A big outage (e.g. half a day for an upgrade) must be planned months in advance and rehearsed in a non-production instance.
Downtime can be negotiated, as there will only be a small number of users at any time, and performance testers are more easily able to move their test execution windows to accommodate downtime.
Upgrade cycle is quite slow. Feature set is stable and mature. Users would prefer to be using a 3-year old version of the product than risk minor changes.
Upgrade cycle is much faster. Support for new protocols is being added with each release. Many users want to use the current feature pack so they can test the latest version of SAPGUI or Silverlight, etc.
The main problem I see is that performance testers desperately want to upgrade to the latest version, but the people who manage ALM don't want to do it as the functional testers have no compelling reason to want an upgrade, and are highly resistant to any change that may cause downtime.
Many companies who own Performance Center are choosing to maintain two separate instances of ALM – one for performance testers, and one for functional testers.
Synchronizing data between Performance Center and ALM
The obvious solution to the problem of meeting the needs of both performance testers and functional testers, while still giving a unified view across both testing streams, is to have two separate instances, but synchronize the information between them. This option seems to have all of the benefits with none of the drawbacks.
HP provides a tool called the ALM Synchronizer that sounds like it should help. In theory, it should work like this: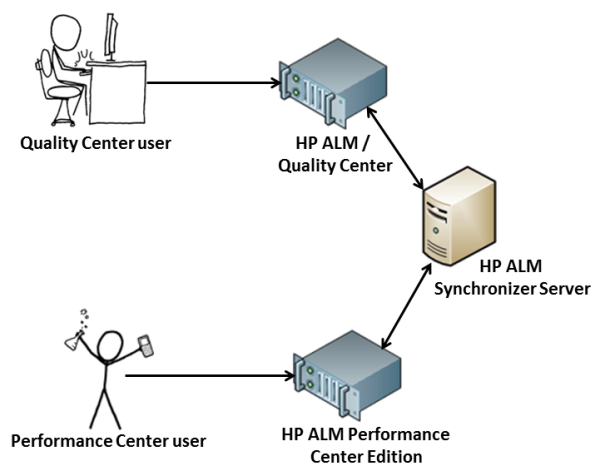 Unfortunately, the Synchronizer tool does not support Performance Center. Here is the relevant section from the HP ALM Synchronizer v1.40 Installation Guide:
Defects synchronization between two HP ALM 11.00 endpoints is not supported for HP Quality Center Starter Edition, HP Quality Center Enterprise Edition, or HP ALM Performance Center Edition.
HP (or an HP partner) should urgently work to fix this, as a lot of Performance Center customers would benefit from the ability to synchronize data between HP ALM/Quality Center and Performance Center.
Update: in a comment below, Ray mentions that Tasktop Sync might be a solution for this problem.
It's time to decide!
Lots of HP customers are still using Performance Center 9.52, so haven't had to make the choice of whether to combine their instances or keep them separate. Time is running out for them to make their decision, as they will have to upgrade to an ALM-based version of Performance Center before the end of 2013.
The End of Support date for Performance Center 9.x is December 31, 2013. As of this date all customer support activities for this version will cease, this includes:

Telephone support
Security Rule updates
Product upgrades

Performance Center 8.1x has reached end of support per June 30, 2008.
[attachment url="https://www.myloadtest.com/wp-content/uploads/migrated-resources/performance-center-9x-eol-customer-letter.pdf"]Performance Center 9.x End of Support customer letter[/attachment]
If you work at a company that owns Performance Center, and you have an opinion on the pros and cons of merging Performance Center and ALM/Quality Center, please share your experiences in the comment section below.