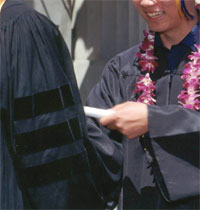 I have mixed feelings on learning that there is now a university-level subject in Performance Testing. CS 4803 EPR: Performance Engineering – Enterprise Computing Performance Engineering, presented by Brian Wilson at the Georgia Institute of Technology looks like a great subject, and it would be a lot of fun to do what Brian has done and run the same course at a local university. But, at the same time, I realise that doing this would be a clear case of fouling your own nest.
Flooding a profitable niche industry with recent university grads who are prepared to work for practically nothing and can claim practical experience with specialised tools will only push salaries in one direction. Obviously these people won't be getting lead positions, but filling the bottom end of the market will, in turn, put pressure on the senior people who do get lead positions.
But this is really an inevitable trend. As the performance testing industry matures, people with performance testing skills will become more of a commodity. This is a good thing for software quality, but not such a good thing for people who are taking advantage of the current skills shortage.
That said, I am yet to meet a performance tester who was hesitant about sharing their knowledge. Maybe this just means that (collectively) we value good software more than high salaries.