I am pleased to let you know that I will be speaking at SoftEd Fusion 2012 in Sydney this September. Fusion is a new conference organised by Software Education, which combines their STANZ testing conference and their Software Development Conference (SDC).
Fusion will run over 2 days, with sessions on Agile methodologies, Enterprise Architecture, Cloud testing, business analysis, test automation, performance testing, and project management. There should be some great learning (and networking) opportunities, so this will be one of the best ways you could spend your training budget this year if your job involves creating software at large companies.



Here is my presentation abstract and bio:
Performance Testing in a Mobile World
Thursday 13 September, 11:35-12:20.
With the exploding popularity of mobile devices, mobile application performance has become increasingly critical to the modern Enterprise. Customers expect your applications to be always on, and always responsive. With end-users conditioned to expect instant gratification, bounce-rates increase dramatically as response times increase.
Suddenly the network is important again, and developers must now unlearn the bad habits acquired in the years when almost everyone had high-bandwidth broadband Internet connections. Client and server-side performance issues are still critical, but some new, mobile-specific problems have been added to the list of commonly found performance defects.
This session will discuss some of the performance pitfalls common to tablets, iPhones and Android devices, and outline the tools available to allow you to effectively test your company's mobile-based applications.

With over a decade spent as a performance test specialist, Stuart is a regular speaker at testing conferences around the world and enjoys sharing his performance testing knowledge on his blog (https://www.myloadtest.com/) with an average monthly audience of over 10,000 readers.
Stuart has been involved in mobile performance testing of applications ranging from hand-held devices for transport & logistics, to mobile-optimised web 2.0 websites. He is the performance testing practice lead at JDS Australia, and helps some of Australia's largest companies to find and fix their application performance bottlenecks.
Stuart dreams of a world where he can use his iPhone for everything, and bandwidth is too cheap to meter.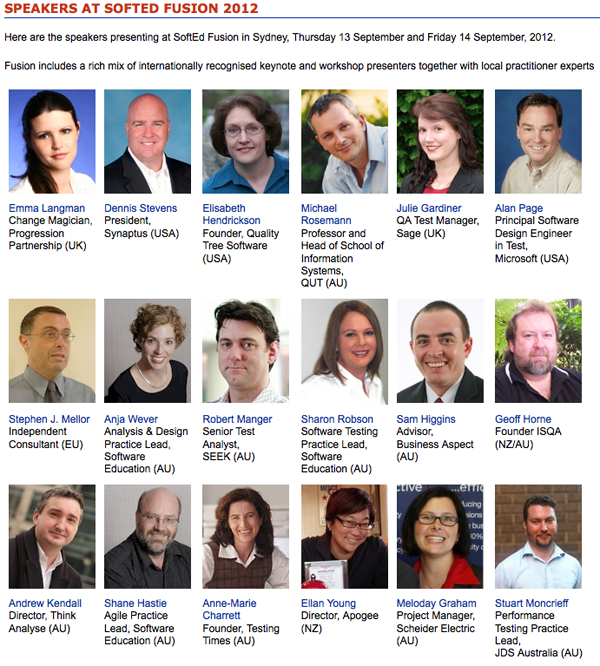 I will also be leading a "birds of a feather" session for performance testers on the Friday morning, where we can have a more discussion oriented session around issues that the attendees are seeing in their workplaces.
Update: Fusion is over. It was great. My slides are available here.