There's a saying in software circles that "writing the first 90 percent of a computer program takes 90 percent of the time… The remaining ten percent also takes 90 percent of the time." A year ago, Mercury started telling people about their new GUI level virtual users for the web. Their promise was an impressive one – no more correlation. Anyone who has scripted for the web knows that correlating a web script can be either incredibly easy or painfully difficult if, for example, the web application constructs HTTP POSTs with an unholy mess of JavaScript. Mercury was promising to make this unnecessary by creating a playback engine that understood what the web page was doing just as well as your web brower, allowing you to create scripts that were all about clicking on buttons and links in a browser rather than sending HTTP requests to the web server.
Presumably, getting the remaining ten percent of this functionality working perfectly before the release of LoadRunner 8.1 was too difficult, so the software was shipped with this Vuser type disabled. The good news is that if you have a copy of LoadRunner (or Performance Center) 8.1, you can enable this vuser type yourself and have a play before it is officially released.
To enable this functionality do the following…
Open the \dat\protocols\webjs.lrp file under your LoadRunner or Vugen installation directory.
It is in standard Windows ini format. Find the [Protocol] section and change the line that says "Hidden=1" to "Hidden=0" .
Now open Vugen and create a new script. You will see that there is a new option to create a Web (GUI level) Virtual User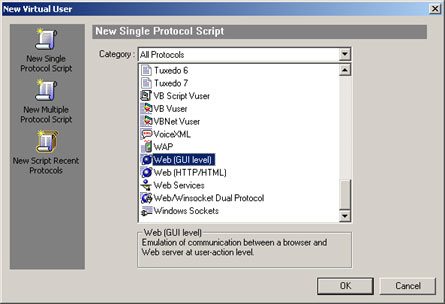 Rumour has it that the GUI level web vusers will be officially released by Mercury in 4-6 weeks with the release of service pack 2 for LoadRunner and Performance Center. This will mean that it will be officially supported by Mercury.
I do not normally recommend that users jump into brand new technology, but this vuser type offers such a huge advantage over regular HTML and URL-mode virtual users (not to mention every other web load testing tool from all other companies), that it is worth spending an afternoon seeing if it works with your application. If it doesn't, you've lost an afternoon; if it does, you've saved weeks of your time.