For those who want to have a look at what WebInspect can do, there is a free 15-day trial available. Note that you will need to provide a valid email address to receive your trial license key, and you will also need to install SQL Server 2005 or SQL Server 2005 Express Edition (free download from Microsoft [36MB]).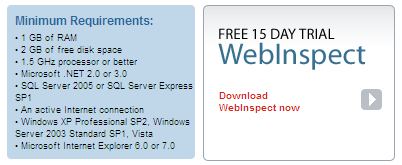 There is a test website you can scan for vulnerabilities at http://zero.webappsecurity.com, which is fortunate because this is the only website you can scan with your trial license…

Also, you may wish to turn off some of the resident protection software that is part of your anti-virus package, as it may block some of the WebInspect tests.