Mercury has just announced that they will no longer be re-selling the Shunra WAN Emulator. This means that I can let you in on a little secret – you can get most of the WAN emulation features for free by using a simple open-source program.
As performance testers, we know that an application operating over the network will perform poorly if there is not enough bandwidth available. We also know that response times for some applications are more affected by latency than others no matter how much bandwidth you have (eg/ an interactive multiplayer game like Quake is playable over a 56k modem, but completely useless over a satellite link that has 10 times the bandwidth). Sidenote: a good job interview question for a performance tester might be to explain the difference between latency and bandwidth, and its impact on application performance.
Load testing with bandwidth limitations is easy; LoadRunner gives you this feature for free. Latency is harder as it requires either a real WAN link, or something to introduce an artificial delay. An artificial delay can be introduced by a black box that you plug into your network (like those offered by Anue, East Coast DataCom, and Apposite Technologies) or by a piece of software like the Shunra WAN Emulator.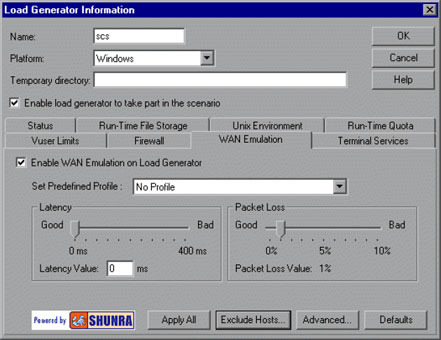 The free alternative to Shunra's software is Dummynet, which was created by an Italian academic researcher.
Unfortunately Dummynet only runs under FreeBSD, but a tiny version of FreeBSD with Dummynet that fits on a bootable floppy disk is available for download. Personally, I haven't seen a floppy disk for years and I don't quite trust that FreeBSD (let alone a tiny version of FreeBSD) will support the variety of hardware it will encounter.
My preferred solution is to install FreeBSD as a guest operating system inside VMware. The hardware in the virtual machine is virtualised, so you don't have to worry about driver support, and it is easy to distribute a VMware image between computers. The only other thing you will need to do is to set up a second network card in your computer and add it to the virtual machine.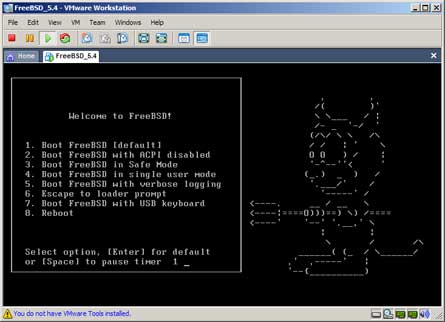 The good thing about this solution is that it makes it easy to demonstrate latency and bandwidth-related performance problems manually, rather than expecting people to just accept your tool's measurements. The only tricky part may be getting permission to plug your laptop into the network (or install the software) at a client site.