This is my presentation on Mobile Performance Testing that I delivered at SoftEd Fusion 2012 (Sydney) on September 13th. The original PowerPoint file can be downloaded from SlideShare.
[slideshare id=14380290&doc=fusion-2012-performance-testing-in-a-mobile-world-by-stuart-moncrieff-120921200026-phpapp02]
Presentation abstract:
With the exploding popularity of mobile devices, mobile application performance has become increasingly critical to the modern Enterprise. Customers expect your applications to be always on, and always responsive. This session will discuss some of the performance pitfalls common to tablets, iPhones and Android devices, and outline the tools available to allow you to effectively test your company's mobile-based applications.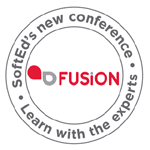 Fusion was definitely worth attending. There were lots of interesting sessions and workshops, and it was great to be surrounded by people who were actually interested in software testing.
My presentation went well, and I managed to overflow the room I was in (not enough chairs for everybody), so there seems to be a lot of people who will facing the challenge of performance testing their mobile apps and websites over the coming months.
There were also some valuable experiences shared during the 90-minute "birds of a feather" session for performance testers that I ran on the Friday morning. Topics included performance testing in an Agile software lifecycle, the challenges posed by Cloud-based and virtual environments, scripting for rich web applications (Ajax, etc.), and some thoughts on what Managers really want out of performance testing.
If you have any questions about my presentation, please leave a comment. If you missed out on Fusion 2012, please come along next year.