A common question on the LoadRunner support forums is "I've got an application that uses this new thing called AJAX. Will LoadRunner work with my application?" …and the answer is "yes…but…".
The "but" is a big one . An "AJAX" application can mean anything from a simple webpage that updates some fields with information from the server (without reloading the whole page), to a horribly complicated rich GUI interface created with JavaScript.
Of course LoadRunner is going to be able to handle anything that is sent over HTTP, but scripting might not be the usual simple Record-Correlate-Playback, and the chances of the new Click and Script vuser type working are much lower than with a standard web application.
As a quick introduction to AJAX I have prepared an exercise using the simplest AJAX application that I could find.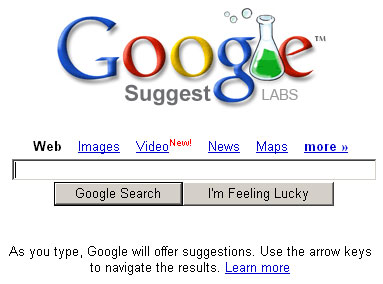 Google Suggest is just like Google's regular search interface, except that every time you type a letter in the search field, a request is made to the server that returns search suggestions.
The exercises are as follows:
Become familiar with the application – both at an end-user level, and at the HTTP level. Record the script in HTML and URL mode, then try the Click and Script vuser type (at the time of writing, this vuser type will not correctly record the application).
Create a script for this application. It should accept a parameter file that contains a valid search term on each line. Create the following transactions load_search_page, enter_character (called every time a character is entered in the search field), and final_search (where the Google Search button is pressed).
Imagine that you've noticed an odd step-like pattern in the Percentile graph in LoadRunner analysis. You hypothesise that response times differ depending on how many characters have been entered in the search field. Modify the enter_character transaction name to include the length of the search term every time it is called.
Treat this with the same level of care that you would give a script that you were creating for a paying client.
I have added some notes and a solution script to the comments section of this post. If you are going to attempt this exercise, please do so before reading the comments.