This is my talk on the Top 7 Mistakes in Performance Testing that I delivered at the first Neotys Performance Advisory Council in November 2017. My presentation can be downloaded from SlideShare, and Neotys will be making all 15 speakers' slides available soon.
[slideshare id=83352854&doc=neotyspac2017-top7mistakesinperformancetestingv1-171204222626]
Presentation abstract:
Good performance testing is really important, but so many companies are doing it really badly. There is a false belief that the quality of performance testing can be best improved by introducing advanced techniques and practices, but most companies are struggling to get the basics right.

Over the last 15 years of consulting, Stuart Moncrieff has seen all the ways that performance testers get it wrong. In this 30-minute talk, Stuart shares the top 7 mistakes he sees most often.

Is your team making any of the top 7 mistakes? Learn what you can do to avoid them, and how you can help your company improve the quality of their performance testing.
Note that I have reverted to the MyLoadTest slide template, rather than the official Neotys PAC template, but here it is in case you were curious.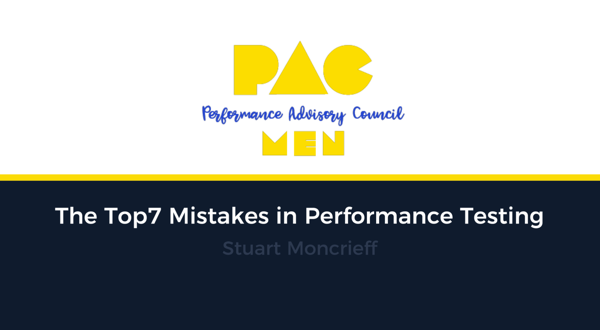 Thanks to Neotys for hosting the first Performance Advisory Council!